The fight against sexual and gender-based violence (SGBV) must address the factors and social norms that perpetuate inequalities at interpersonal and community level. Many societies have normalized sexual and gender-based violence by holding a set off attitudes and beliefs that perpetuate the vice. These attitudes and beliefs must be challenged. In fact, in acknowledging its pervasive nature, numerous SGBV advocates and scholars have defined the pyramid of sexual abuse.  
While the definition of what constitutes abuse differs from context to context, the pyramid represents a continuum of that allows for a better conceptualisation of abuse. It highlighting the ways in which common attitudes and beliefs uphold and form the basis for more extreme acts of violence. The University of Alberta argues that if we weaken this foundation, everything above it crumbles. Meaning if the pervasive attitudes and beliefs crumbles, we create environments where sexual violence is never justifiable, and where community members are holding each other–and themselves–accountable for the harm they cause.
In identifying these attitudes and beliefs that perpetuate violence, we must acknowledge the importance of language and its contribution to the normalization of violence. Language is used to communicate our thoughts, feelings, processes and our stories and consequently has immense power. Language has the power to excuse violent behavior and can lead an entire community to accepting a vise it should otherwise fight. It shifts the responsibility from perpetrators and focuses on the victims. Language has the power to change mindsets, and consequently behavior, but it also has the power to justify behavior.
The YW4A programme centralises young women in Kenya, South Sudan, Egypt and Palestine in the fight against SGBV. It does this by building their agency, leadership and amplifying their voices.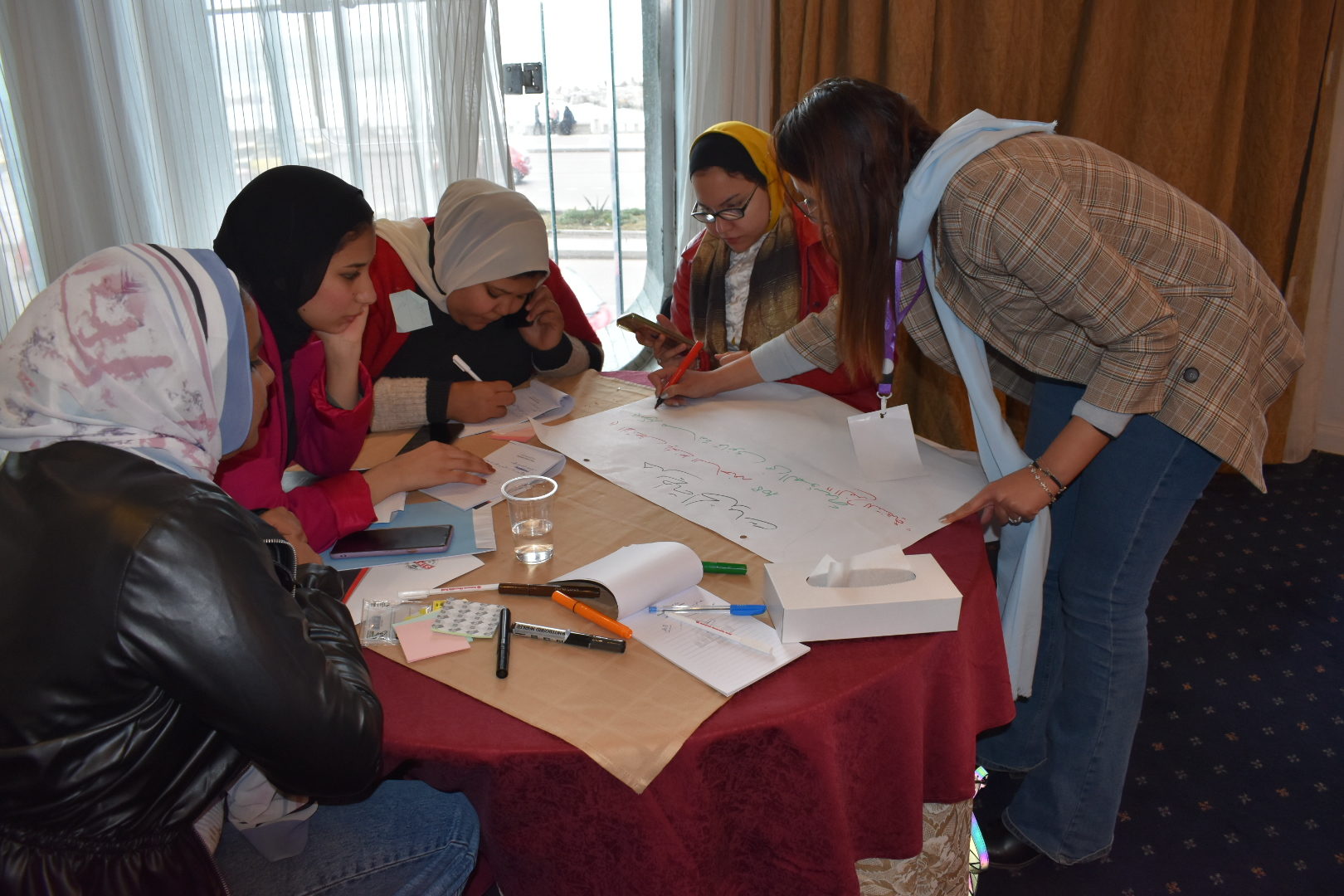 Our proposition is that young women's leadership and participation in decision-making are crucial to advance their rights in fighting SGBV. In delivering this mandate, during the Rise Up! leadership training in Egypt, the programme led the group of young women in mapping out commonly accepted phrases and statements that have been used to normalize sexual and gender-based violence in the Egyptian society. Some of these are statements that either promote victim blaming, or impose a God-sanctioned-act towards SGBV.  It is the programmes hope that a campaign against SGBV must begin by naming and shaming the vice in these deep-rooted believes passed using language. 
Let us explore these statements below:
Statements that promote victim blaming
"The gird caused it; her clothes are too tight"
"You invited him to do it" "You put yourself out there" "But you dressed like that"
"You provoked him"
"Hitting from a lover is like eating sweets"
Statements that justify femicide/domestic violence
"But she cheated"
"But he is your husband"
"He is stressed, he must release his stress"
"He loves you"
" You should not destroy your house"
"To kill the cat"
"Every marriage has its problems"
"Its his right, her desire is not important"
"If you break a girl's rib, she will grow 24"
Statements that give a God-Complex to SGBV
"God will be angry at a woman who refuses sex"
"If a husband goes to bed angry, angles will curse her"
Written by Catherine Wanjiku Kinyanjui
As part of the YW4A Techical Point of View (#TPOV ) series, a collection of technical analytical articles from YW4A programme staff, consultants, advocates and allies, with expertise in various aspects of programming facilitating  young women's leadership and eliminating SGBV.