Karima Al Majayda is a women's rights activist of many firsts. She thinks and acts big, spurred on by the belief that change is possible and women's rights are attainable in the Middle East. She advocates for the rights of women with disabilities, whom she believes are more vulnerable to sexual and gender-based violence, and their needs are often neglected in laws and conventional programmes.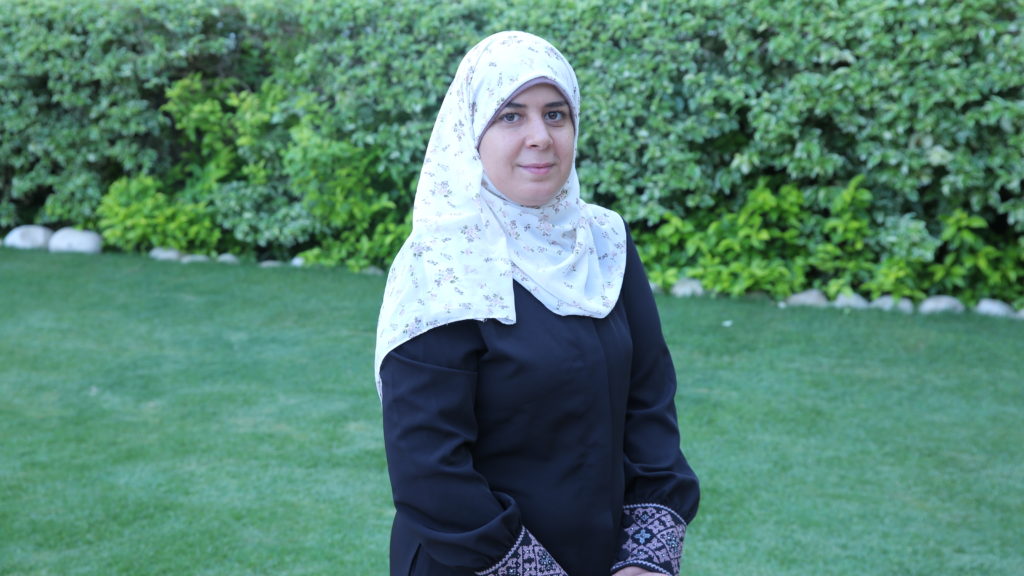 Karima, 35, traveled alone from Gaza to Alexandria, which is a major feat for a woman with a physical disability.
As part of the Young Women for Awareness, Agency, Advocacy and Accountability (YW4A) programme's advocacy skills and capacity building objective, 28 young women and men from Egypt and Palestine participated a Digital Advocacy training in Cairo in July 2022. 
Karima, a lawyer and coordinator of the sexual and gender-based violence (SGBV) programme at the organisation, Nojoom Al Amal in Palestine. 
 " I consider my attendance of the Digital Advocacy Training in Cairo as an achievement for young women from Gaza, Palestine. It is not acceptable for women to travel on their own, let alone a young woman with a disability.  But my family supported me and believed this would be a great opportunity to pursue my dream of becoming a women's rights activist."
Karima joined the Digital Advocacy Training under the YW4A programme to learn more about personal status laws and the tools to advocate for legal reforms that would enhance young women's rights. She says the training facilitated by Equality Now enhanced her ability to advocate for issues on SGBV and the rights of women with disability. She has trained at least 100 male municipality members on SGBV, active citizenship, and women's leadership. She remains connected to the participants and provides guidance and advice on related issued shared. 
At the training, Karima was excited to meet a new diverse group of young women fighting for positive change in society.
She shared, 
 "Learning about the cultural differences from the young women from Egypt, the West Bank, and Gaza was enriching."
Following the training, Karima plans to share  this experience and knowledge with other young women in Gaza who cannot travel due to restrictions imposed by the Israeli occupation. She stressed the importance of targeting more young women from Gaza, who are excluded from such training opportunities and workshops due to mobility restrictions.
 "I paid thorough attention, not only to the content but also to the delivery of the information and the presentation."
Karima was happy to meet her colleague Amena Badawne from Palestine  for the first time in Cairo. They have worked together for more than four years virtually, only interacting over the phone and Zoom. 
 "I was not expecting our reaction when we first saw each other in person. It was overwhelming. Spending four days together strengthened our relationship. Before that, she was just a colleague I had to work with, but now we are friends."
The YW4A programme facilitates leadership capacity building of young women, to actively engage in and influence conversations and decision-making in public, private, and civic spaces on issues that affect them. The programme works with young women in Egypt, Kenya, Palestine and South Sudan through a consortium of organisations – the YWCAs of Palestine, Kenya and South Sudan, Ibrahimia Media Centre Egypt, Equality Now, Faith to Action Network, Royal Tropical Institute (KIT) and the Consortium Lead, World Young Women's Christian Association (World YWCA).