On August 12 every year, Palestinian youth and youth worldwide commemorate their International Day, which the United Nations General Assembly has endorsed. The resolution, adopted in 1998, has brought youth issues to the international community's attention. It also champions the potential of youth as partners in today's global society.
This year's International Youth Day 2023 theme is "Green Skills for Youth: Towards a Sustainable World", apt because the world is embarking on a green transition. The shift towards an environmentally sustainable and climate-friendly world is critical for responding to the global climate crisis and achieving the Sustainable Development Goals (SDGs). A successful transition towards a greener world will depend on the development of green skills in the population. Green skills are "knowledge, abilities, values and attitudes needed to live in, develop and support a sustainable and resource-efficient society".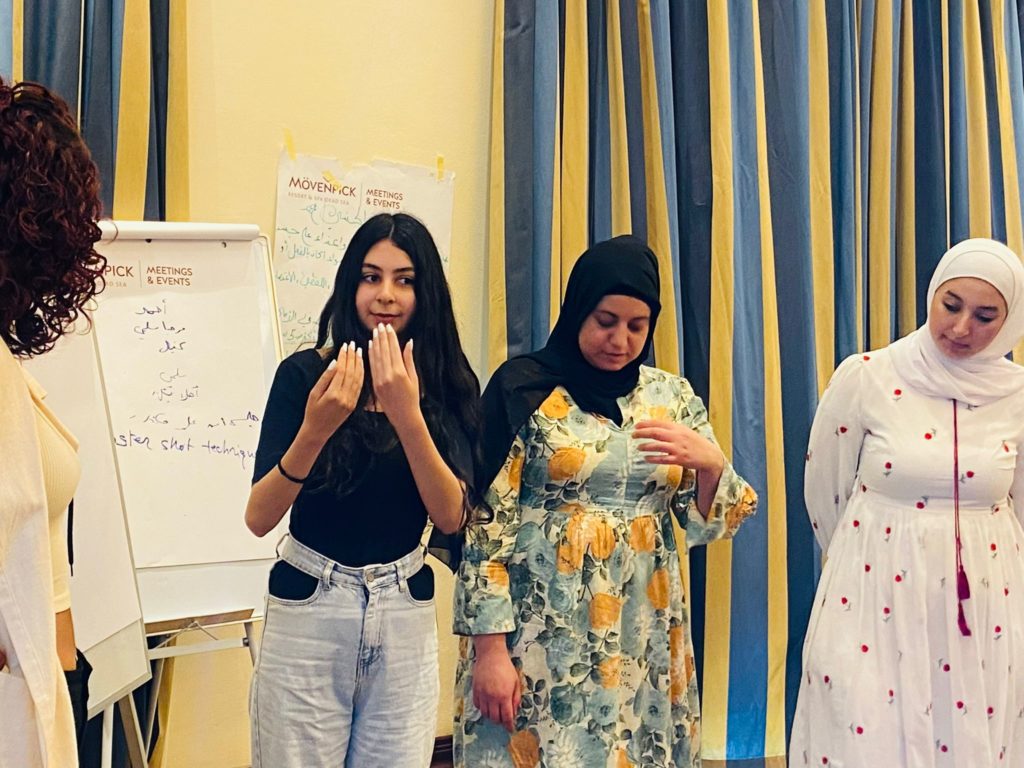 In Palestine, the youth population (aged 18-29) accounted for approximately 22% (1.19 million) of the total population as of mid-2023, with a similar distribution of 22% in the West Bank and 21% in the Gaza Strip. Concurrently, the gender distribution stood at 104 men for every 100 women.
The Palestinian youth continue to grapple with challenging and intricate circumstances amid the ongoing conflict rooted in colonial and present-day Occupation. As Palestinian youth, we confront the hurdles the Occupation poses, which have affected every aspect of our daily existence. This reality also casts a shadow over our aspirations for advancement and pursuing our dreams. The prevailing situation in Palestine is deeply disheartening, marked by psychological, social, and human rights violations, resulting in a difficult environment for youth, especially young women.
Moreover, the presence of the Occupation leads to devastating outcomes, including the loss of young lives and the imprisonment of many youths. These circumstances rob them of their aspirations and potential for growth. Instead of living their lives to fulfil their dreams and personal growth, young individuals become victims of the Occupation's outcomes. It's crucial to acknowledge that youth are most affected as they are most active in socio-political advocacy and actions.
As Palestinian youth, we, therefore, carry a dual responsibility in the middle of our broader commitment to serving our community and socio-political advocacy for our rights. This responsibility includes not only our active role within these contexts but also the significance of self-discovery and personal growth in this complex environment.
In the middle of this challenging reality, we strive to identify spaces and opportunities to express ourselves. We aim to spotlight youth-related issues within the Palestinian context, seeking to improve our circumstances and draw global attention to our experiences. We intend to find common ground with the struggles faced by youth worldwide. Addressing these challenges demands collective international actions to bring about comprehensive solutions. It calls for adherence to International Humanitarian Law, for establishing conditions that promote peace, justice, and dignity for all.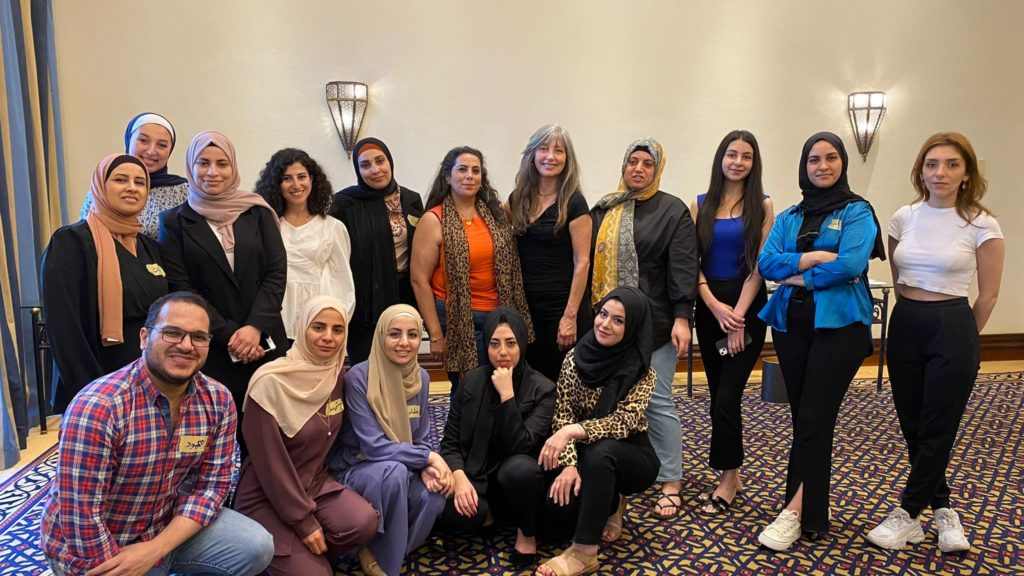 Moreover, military occupation, colonisation, and discriminatory policies bear grave consequences for Palestinian youth. This impact is particularly detrimental for young women, whose safety, security, mental health, and overall well-being are constantly threatened.
Despite the prevailing political circumstances, education is a significant investment for Palestinians, holding profound importance on both individual and societal levels. Accordingly, data from 2022 revealed that among every 100 male and female youth aged 18 – 29, 18 youth successfully attained a bachelor's degree or pursued higher education. The Palestinian Central Bureau of Statistics (PCBS) reported that female youth hold a more advantageous position, with 23 out of every 100 female youth achieving a bachelor's degree or higher. In comparison, this number stands at 13 among their male counterparts.
On the contrary, unemployment rates present a substantial challenge for the youth, with figures soaring to 59% among young women and 32% among young men in the West Bank. Remarkably, the problem is most pronounced in the Gaza Strip, where rates stand at 75% for young women and 30% for young men, in contrast to the West Bank.
Furthermore, data highlights that graduates, including those with intermediate diplomas or higher, bear the brunt of unemployment, registering at 48%. This figure exhibits a discernible difference between young men and women, with the former at 34% and the latter at 61%.
Statistics underscore the remarkable educational achievements of Palestinian youth and their academic knowledge. However, the scenario takes a disheartening turn post-graduation as these enthusiastic individuals grapple with the harsh reality of high unemployment rates. This predicament discourages ambitious youth, who often lack opportunities to apply their acquired knowledge. As a result, they may resort to employment unrelated to their passions due to the dearth of opportunities and the need to have viable livelihoods for their economic independence.
While challenges abound, our potential remains boundless, and our ability to overcome obstacles and succeed is undeniable. We hold a steadfast belief in our capacity to make a meaningful impact through concerted action, channelling our energy into creating positive change. We possess the capability to steer transformation, and I take immense pride in the vibrant young leaders who inspire hope and motivate us to advance toward a better future.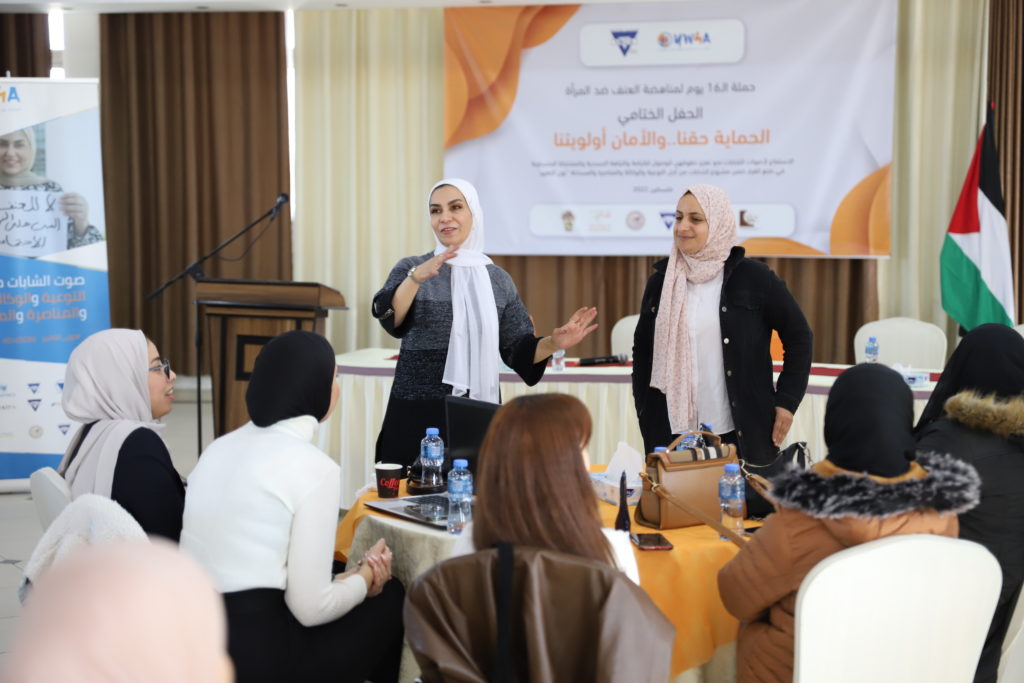 As a young Palestinian woman, I consider myself fortunate to be a part of the YW4A programme, through the YWCA of Palestine. This programme has provided me with the opportunity to engage in workshops, meetings, and various activities alongside other young women. We discuss a wide range of topics that affect us and give us the capacity to access our rights using the RiseUp! guide for Young Women's Transformative Leadership.
The impact of the YW4A programme on my life and character has been greatly positive, extending its influence to my community. Our perspective on the world is infused with a desire for transformation and a willingness to confront challenges. We hope to create more platforms and safe spaces where young individuals can express themselves, nurture confidence in their abilities, and raise awareness about the pertinent issues young people face
In reaffirming our commitment to upholding noble principles, we eagerly anticipate witnessing young women take on roles and positions of responsibility and decision-making. Our collective drive is directed toward fostering a better future, where the voices and contributions of young women hold a central place.
From Palestine, Happy International Youth Day!
Written by Tala Al-Ahmar (23 years old),  Al-Harah Theater – Bethlehem. 
"I am Tala Alahmar, a 23-year-old graduate of Bethlehem University with a degree in Business Administration and a minor in Marketing. Despite my academic background, my passion lies in psychology and addressing social and women's issues. This drove me to join Al-Harah Theatre, where I believe in the transformative power of theatre for driving sustainable change.
Discovering the YW4A programme further ignited my commitment to these issues, aligning with my interests and allowing me to actively contribute to addressing youth challenges, particularly those faced by young women in my community."