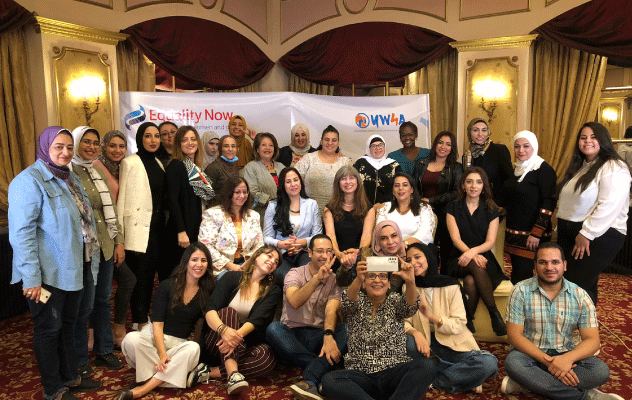 The YWCA of Palestine took part in a four-day advocacy training, 12 – 15 November 2021, in Cairo, Egypt within YW4A pogramme, which aimed to strengthen the advocacy capacities of the programme partner organizations. The training, facilitated by Equality Now, was also attended by the partner organizations in Egypt, namely YWCA Egypt, and Ibrahimia Media Center, as well as representatives of the partner organizations in Palestine, including the Psycho- Social Counselling Center for Women, Women Media & Development (TAM), Stars of Hope Society, Al-Harah Theater, and YWCA Jerusalem.
The YW4A programme is funded by the Netherlands Ministry of Foreign Affairs, and is being implemented over the period of five years, 2021 – 2025, in Egypt, Palestine, South-Sudan and Kenya. It aims to contribute to eliminating gender-based violence, and achieving gender equality as well as raise the voices of young women, and promote their participation in decision-making.
The training focused on the role of NGOs in eliminating gender-based violence as well as the challenges faced. It also tackled the legislation on gender-based violence (GBV) in Palestine and Egypt in addition to advocacy skills, tools, and mechanisms at the local, and international levels.
The participants from Palestine worked on a draft advocacy strategy focusing on four major issues in Palestine, specifically the adoption of the Family Protection Law, increasing the legal age of marriage, enacting a law to eliminate harassment in the workplace, and the political participation of women at the local level. Accordingly, an action plan was developed for the next four years.