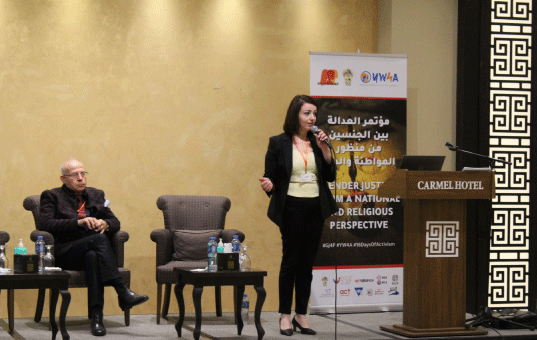 The YWCA of Palestine participated in the the "Gender Justice from a National and Religious Perspective" Conference convened by the Evangelical Lutheran Church in Jordan and the Holy Land on Thursday 2 December 2021, in partnership with the association and several local and international organizations that work around gender justice.
The conference, organized as part of the 16 Days of Activism, addressed a number of issues related to gender justice by developing strategies on ways to promote women's rights thus contribute to achieving sustainable development goal 5, which concerns gender equality and women's empowerment.
In the special session, the General Secretary of YWCA Palestine Amal Tarazi shed light on the importance of young women's participation in decision-making for ensuring the implementation of gender justice policies. She spoke about the YW4A project, which is implemented in partnership with the World YWCA and several local and international organizations with the aim of promoting young women's rights, especially the right to equal participation in decision-making.