In Palestine, a profound transformation is taking shape, championed by male and female judges from Shari'a and Ecclesiastic courts. Their mission: advancing women's rights within Palestinian society. 
At the forefront of this change are the Gender Justice Ministry of the Evangelical Lutheran Church in Jordan and the Holy Land (ELCJHL), a dedicated partner in the Young Women for Awareness, Agency, Advocacy, and Accountability (YW4A) programme in Palestine.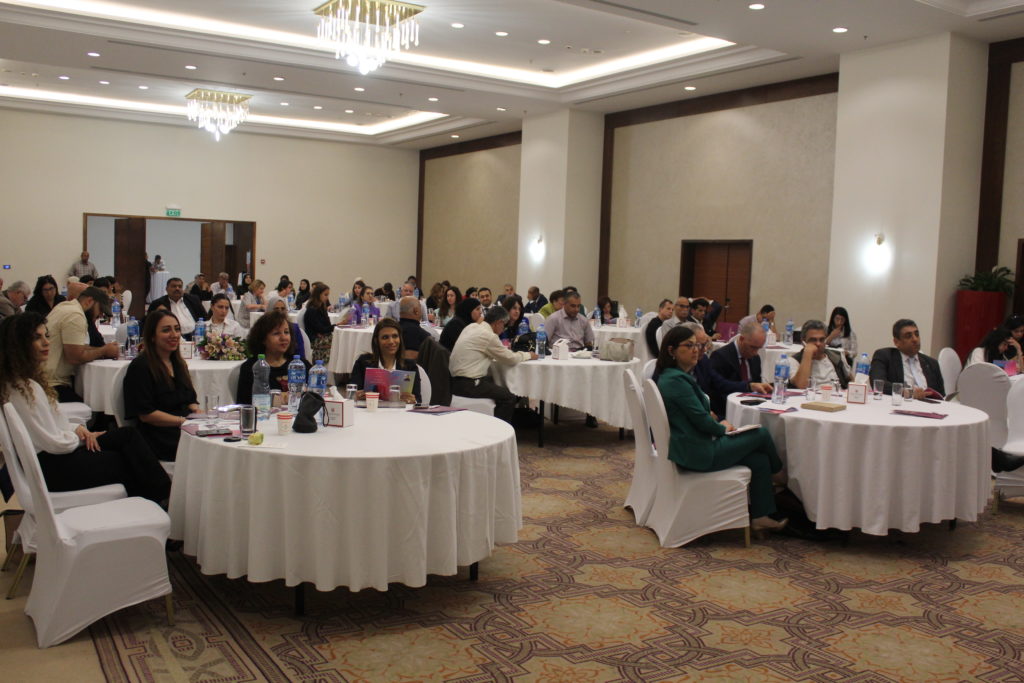 On June 5th, in Ramallah, Palestine, an enlightening dialogue session unfolded. This session aimed to constructively engage Shari'a and Ecclesiastic court judges and faith-based women's rights champions, challenging gender-discriminatory social norms and promoting women's rights within the faith and legal communities. The overarching goal was to advocate for gender-just laws, gender equality, and women's participation in decision-making spaces in Palestine.
The event provided a secure environment for both male and female judges from the Shari'a and Ecclesiastic courts, alongside influential figures in Palestinian society, to engage in meaningful conversations about gender inequality and violence against women. Diverse attendees included representatives from various governmental institutions, legal professionals, gender experts, authors, and human rights activists.
Throughout the event, distinguished experts delivered informative and engaging talks, offering valuable insights into the legal, socio-political, and cultural dimensions of gender inequality and violence against women in Palestine. Topics spanned the role of the legal system in addressing gender inequality, the empowerment of women through education, and the imperative need for cultural change to end violence against women.
Bishop Dr. Sani Ibrahim Azar, the Bishop of the ELCJHL, delivered a powerful opening speech, underscoring the critical importance of promoting gender equality and recognizing the invaluable role of women in all fields. The Bishop emphasized the significance of supporting cultural and literary initiatives contributing to changing societal norms and enhancing the role of women. He reaffirmed the need for continued cooperation and partnerships to achieve equality and social justice goals, inspiring all in attendance to work tirelessly toward a more equitable and just society.
The session's highlight was the launch of Judge Somoud Damiri's book, 'Similar Stories: Wives: the H of Heaven in Hell.' This powerful exploration delves into the experiences of Palestinian women and their struggles with gender inequality and violence.
Judge Somoud Damiri, a women's rights champion working on the YW4A programme to advocate for legal policy changes, stressed the importance of shedding light on the experiences of abused women systematically deprived of their fundamental rights. She argued that true nation-building cannot occur when women are forced to live in fear and anxiety, expressing her determination to bring about radical social change that ensures equality and justice for Palestinian women. Her stance serves as a potent reminder of the transformative power of the law.
During the dialogue, Judge Scarlet Bishara, the first female judge in the ecclesiastical court, discussed the establishment of the "Al-Hakimat Council" in collaboration with Judge Somoud Damiri. This council, a key ally in the YW4A programme's legal advocacy strategy, aims to empower women, combat violence, promote collective awareness, provide new interpretations of religious texts, and challenge male interpretations that suppress women.
The event's success was evident in the fruitful partnerships and collaborations forged among interfaith organizations, women's rights organizations, influential individuals, and institutions working toward the common goal of gender justice. 
Judge Somoud Damiri's book launch underscored the significance of amplifying marginalized women's voices and experiences, emphasizing the need for advocacy and change. This event showcased the strength of dialogue, collaboration, and collective efforts in tackling the intricate challenges faced by women in Palestine, offering inspiration to young women engaged in the program, especially those pursuing legal studies at universities.