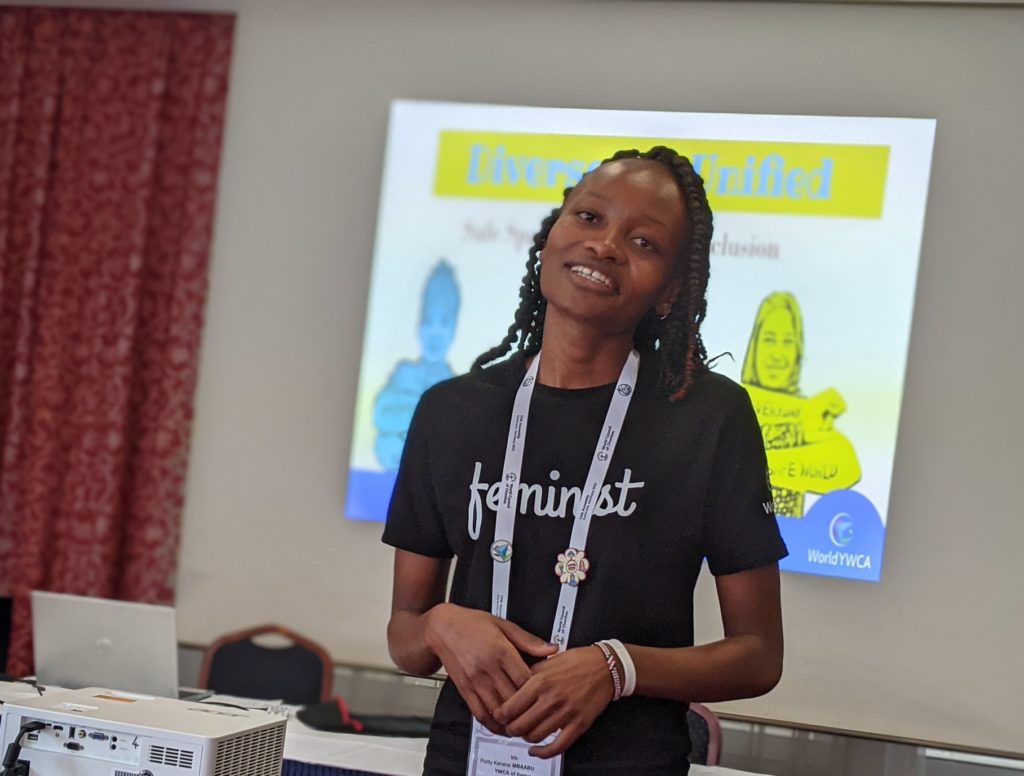 I got to attend the Ecumenical Youth Gathering (EYG), which was held on 27th-30th August 2022 before the World Council of Churches (WCC) 11th Assembly representing the YW4A Initiative from YWCA Kenya. Around 500 young people from member churches and ecumenical partners gathered for the event. It was a platform that provided an open and inclusive space for youth-led and intergenerational dialogue and consultation with young people to strategize collectively and develop a common message that was brought forward to the main assembly. 
The opportunity gave me an outlook on various aspects of a young woman's life. It was an opportunity that had so many firsts time experiences, such as; flying, traveling out of my country, learning how to use technology at an advanced level, and engaging in meaningful conversations with many people from diverse backgrounds. Further, planning and organizing for workshops with fellow young women from different countries and using my voice in a global platform to share what I understand on a certain issue. During the gathering, plenaries were a chance to put things in perspective, whether in my field of work, a time to reflect on the state and state sectors, the religious space, and my personal life as a leader.
It was an explorative and fun experience.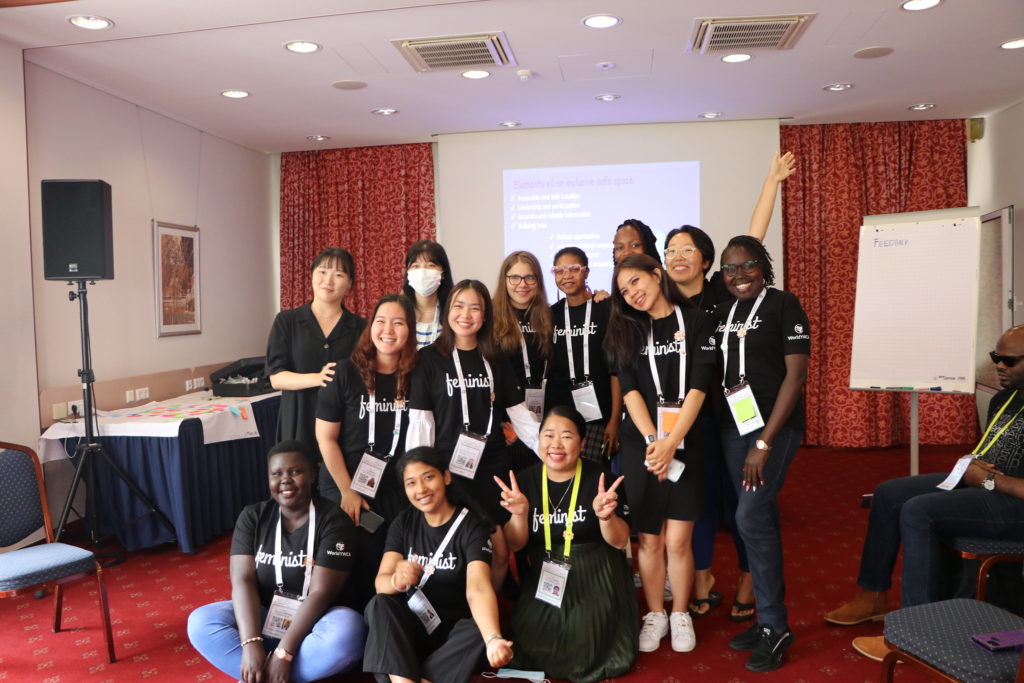 A sense of community was highly felt, starting with eventually meeting with my sisters from the YWCA movement to plan the facilitating of the workshops. The planning involved incorporating each individual's idea to ensure that we facilitated the workshops in a diverse and fun way. In both workshops, that is a). Diversified yet unified: safe spaces as a tool for inclusiveness and b). Transformative and Feminist Leadership for young women and girls. During the workshops, participants got to share how they use safe spaces, how they have not been a safe space for other people, and how they will observe the elements of safe space in their work and with a community. In addition, I got to learn how different participants view feminism and transformative leadership and to hear young people committing to a transformative leadership journey.
The role of the church and young people in society came out clearly during the plenaries. I got to relate the discussion topics to my background and personal life. In the plenary Reconciliation with ourselves.
I reflected on the times I had difficulty identifying who I am about my spiritual life and identity. The speakers shared the importance of the church community guiding young people to identify some of the issues they face, especially with the emerging mental health issue, hence reconciling with themselves. 
Further attending the plenary on Reconciliation with others, I thought back home about how religious leaders from all faiths work together to promote peace and togetherness among the different faith believers and communities. It also reflected on how sometimes the religious teachings drive a divide among communities leading to conflicts in the governance system, livelihood activities, schools among learners, and workspaces. I acknowledged the role played by the church community in transforming injustices, especially with leaders and youth leaders involved in human rights activism—the need to embrace inclusivity for all diverse groups considering the values.
On the final day, young people presented their laments that would be brought forward at the main assembly. The injustices we face as a globe are similar, and we may need to adopt similar strategies and mechanisms to address them for a better society.
As part of the YWCA delegation, we successfully presented the lament that; gender-based violence perpetuated by the patriarchal society and the millions of young women and girls whose human rights are denied and violated due to discriminatory gender norms. Other young people presented emerging issues in their countries, such as human rights violations, climate crises, and refugee crises.
While returning to Kenya, I reflected on interacting with different people and fulfilling the engagements. The networks and friends I made in Germany impacted my perspective greatly, and I appreciate what I picked from being exposed to a different environment to learn how other systems work.
I went home with a takeaway;
"May God bless you with the holy anger at injustice, oppression, and exploitation of people so that you may tirelessly work for justice, freedom, and peace among all people."
Written by Purity Kanana, a young woman leader, and peer educator from Meru County, Kenya.