The 2023 Inter-religious Convention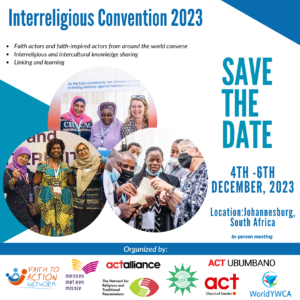 The YW4A Initiative, together with its partners and allies, World YWCA,  Act Alliance, ACT Church of Sweden, ACT Ubumbano, Faith to Action Network, Mensen met een missie, Muhammadiyah and Network for Religious and Traditional Peacemakers co-hosting the 2023 Inter-religious Convention in Johannesburg, South Africa in December this year.
The convention provides:
an excellent opportunity to increase awareness, knowledge, and skills about different religions, as well as inter-religious action
a platform to share experiences on religion-based strategies for social action
an opportunity to strengthen interpersonal relations, and enhance solidarity among old and new friends
a convening to celebrate each other's successes and achievements
a space to synergise and coordinated national, regional, and local initiatives.
Over the course of the three-day event, participants will be involved in a range of activities, including panel discussions, keynote speeches, and interactive workshops. The aim is to create an engaging and informative experience for all attendees. In addition to the scheduled activities, there will also be plenty of opportunities to network and form strategic partnerships with other like-minded faith institutions.
We believe that building strong relationships within the faith community is key to the success of the work of faith institutions, and we hope that this convention will serve as a catalyst for further collaboration and growth.